Invitee of the Month
Dr. Naveen Thacker
MD (Ped); FIAP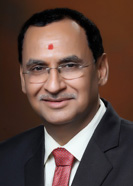 Dr. Naveen Thacker, is Director of Deep Children Hospital & Research Centre at Gandhidham-Kutch,Gujarat,India and Adjunct Professor of Pediatrics at Pramukhswami Medical College, Karamsad, Anand, Gujarat, India.

Currently he is the President of Asia Pacific Pediatric Association (APPA) andCoordinator of Development -International Pediatric Association (IPA).

His work on Polio eradication and Newborn Resuscitation is recognized internationally. Presently he is the member of Indian Expert Advisory Group on Pneumococcal Vaccines and Measles & Rubella.

He is the Secretary of Child Health Foundation. Through Child Health Foundation he is involved in vaccinology training.

From 2008 onwards, he is one of the Scientific Advisory Committee Member of Enterovirus Research Centre, Mumbai- Indian Council of Medical Research.

He is a Steering Committee Member of Immunization Partners of Asia Pacific (IPAP) for the year 2017-2019.

He was the National President of Indian Academy of Pediatrics in 2007

He was CSO representative to GAVI Board from July 2014 to June 17 and Program Director of HBS India Project from the year 2014 until 2nd May 2017.

He has also served as memberof many committees of Government of India and ICMR like Immunization Action Group, ICMR Subcommittee on Polio Vaccine, ICMR Expert committee on Vaccines, India expert Group on Polio.

He has received the Outstanding Asian Pediatrician Award2012, at APPA Congress in Sarawak, Malaysia.

He is also a recipient of Rotary International Regional Award for Polio-free World 2010, Rotary Ratna Award District 3050, 2010 and best Rotarian Award for outstanding services in Polio-plus program.

He was also one amongst in the list of top Influencer for the fight against Polio released by UNICEF on World Polio Day 2017.